Caged Tigers
Twins 10, Tigers 4



The Detroit Tigers before coming to Minnesota this week:
And the Detroit Tigers on their way out of town tonight: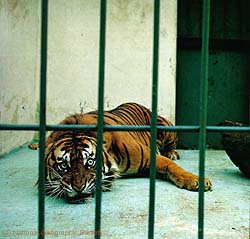 Nice kitties!
Oh, Brad Radke toyed with them in the 1st inning, the way I do when I let Isabella catch up to her tassle--because it's
so cute
when she chomps down on it and pulls it close to her belly so she can kick it with her hind legs, trying to be
so veee-shus
--before I cruelly pull it away to get her to chase it again. Brad let them get a head start in the 1st after he issued his first walk of the season, to the lucky Carlos Guillen, and gave up singles to "San Juan Slim" Rodriguez and Satchelmouth Young. Ron-DL White hit a sac fly to make the score 2-0, and oh the kitties just thought they finally had a kill. But then Radke quietly tugged away the string, and that would be about all the fun the furry little beasts would enjoy for the evening.
Tiggers pitcher Nate Robertson had a smooth 1-2-3 first inning, but started to throw as if he were distracted by a tassle in the 2nd, when the Twins tied the game with a couplawalks, a couplahits, and a pitch that plunked Shannon Stewart after the damage was done. His problems continued in the 3rd inning, as Torii Hunter led off with a double hit high off the baggy. After LeCroy moved Torii over with a groundout, Robertson caught Lew Ford's jersey with another brushback pitch that got away. Then Jacque Jones hit a fairly routine grounder to the 2nd baseman Omar Infante, who threw to 2nd base to get Ford and possibly start the double play but instead skipped the ball into leftfield. Ford scampered over to 3rd base; and when Michael Cuddyer walked on five pitches, the bases were loaded with one out for Mike Redmond.
Normally you'd hate to see a batter swing at the first pitch in that situation, when the pitcher is reeling and just walked the previous batter on five pitches, but hack away Redmond did--and yet laced a single in front of RF Marcus Thames. Ford scored, and when Thames bobbled the ball, Jones came around to put the 5th Twins run on the board.
Meanwhile, the cameras repeatedly showed Detroit manager Alan Trammell watching his team unravel, and I'd swear I have never seen a manager so close to tears. Capt. Bess said to me,
"Is he going to get fired?"
And that was about the size of it. Fired, or maybe led in front of a firing squad. He had the look of a man suddenly faced with his own mortality, realizing that it all wasn't what he hoped it would be, and now he's done. I'm not sure if he needed a warm blanket and a teddy bear, or a shot of whiskey and one last cigarette. After he got on the plane tonight, I wonder what he and Kirk Gibson talked about. It's a long ways from the
Bless You, Boys
of 1984, isn't it?
Well, Cuddyer let them off the hook when he foolishly tried stealing 3rd base off ol' Slim--who cracked me up when he looked into the Twins dugout, cocked his finger to his temple like a pistol and brought down the hammer. You don't mess around with Slim. It's suicide, I know. Then Rivas ended the inning with a groundout, and the game coasted for an inning until in the top of the 5th, Radke gave up a single to Craig Monroe, then the first pitch to Thames got away and ran up into his ribs.
Would you think Radke did it on purpose? Marcus Thames hadn't done anything to that point but pop out to the shortstop and bobble a ball that allowed the Twins a run; so he'd be an unlikely target for any retaliation. It wouldn't make any sense to avenge the two Twins hit-batsmen at that point anyway, since plunking Thames brought the tying run to the plate with no outs in the 5th inning. Yet home plate umpire Ed Hickox concluded that it must have been done on purpose, so he warned both benches. And Gardy uncorked his first tirade of the season on him.
Here's an actual screen capture from FSN:
I haven't seen him so mad since someone suggested there might be snow in Southtown back when I was a wee kid.
Neverthless, Hickox would not be moved, and tossed Gardy from the game (not literally, but wouldn't it be fun to see an umpire try?); but Gardy did apparently leave a few embers under his team to smolder over the next couple innings. Radke coolly closed out the top of the 5th inning by inducing a pop-up and a double play ball. Then LeCroy led off the bottom half with a deep drive to the Kirby Spot at the wall in centerfield, headed for the seats, but Craig Monroe made like Kirby in '91 and robbed Big Country of his tater. I wouldn't normally advise taking taters away from Matthew LeCroy, but it was sure brave of Monroe to try it. No matter: Lew Ford would draw a walk and Jones drove him home with the Twins' first triple of the year.
Radke gave back the run in the 6th by allowing 3 singles to the heart of the Tigger order, but it was just another tease. Facing Kyle Farnsworth (are Cubs fans tonight calling him Lyle?) in the bottom of the 6th, Rivas on an 0-2 pitch neatly kept his hands back and slapped a hanging curve into rightfield to lead off with a single, and Stewart followed with a walk. Farnsworth then recorded a couple outs, but LeCroy followed with a single up the middle to score Rivas. The former Cubs pitcher next started Ford with a 2-0 count, then delivered a flat fastball down the middle--and
Leeeewwwwwwwwww
turned on it and ripped the pitch into the Old GA to cap the Twins scoring for the night. (Matt Guerrier apparently gave up a solo HR to Ron-DL in the 8th, but it was so inconsequential I'd forgotten about it until lichty helpfully reminded me.

Mea culpa

.)
10-4, Twins. How
SWEEP
it is!
As you can see, Isabella is quite contented and sanguine:
Purrrrrrrrrrrr!!!!