Notes on a Sunday Outing in the Park
Angels 2, Twins 1



So, Johan's streak of consecutive wins without a loss is over. It actually came close to ending last week in Kansas City, closer than anyone seems to remember. That was a 2-1 Twins win in which Johan dominated in 8 innings, allowing a run on 5 hits and a walk, striking out 8. But in the 3rd inning, you may have forgotten, "Super" Joe McEwing launched a high rocket down the LF line that just hooked foul, missing a 2-run homer by a foot. Ultimately, he struck out and Johan escaped the inning with no damage done, later going back to the hotel that night with the Win. Sunday in the 4th inning, Vlad Guerrero hit a nearly identical shot down the LF line--except it hooked into the foul pole netting and put a run on the board for the Halos. Ultimately, that would tag Johan with the Loss. So it goes....
I was at the game on Sunday, sitting up in my customary Sec. 227: excellent view looking straight down the 1B line and proximity to all varieties of concessions that the dome has to offer, from Famous Dave's to Polish sausages to cheesesteaks to ice cream to the very good burger grill. It's the best value in the joint, and don't even talk to me about the so-called "Home Run Porch"--which is a "porch" like the "Clear Skies Act" is designed to give us clearer skies. But, to each his own. Sit where you want, just don't be blocking my view of the field with your "Circle Me, Bert" sign, don't kick the back of my seat or bump your knee against my head, and don't otherwise annoy Capt. Bess, and we'll get along fine.
Anyway, as we were watching Lew Ford come to bat in the 1st inning, after Stewart and Castro had already grounded out, Bess asked how

Leeewwwwwww!

was doing and whether we might expect him to break the ice with a hit right then. I said he'd been doing well lately after a slow start on the season, and

blahblahblah

... but that Bartolo Colon could be tough when he's on his game, so "we might not see many hits today." Blame me, I guess, if you think I might have the power to put the whammy on our boys and bring Johan's streak to an end by uttering my thoughts out loud in Sec. 227. Then again, I felt pretty sure that Bush was going to lose the election last November and that the White Sox might sink back to 75 wins and 4th place this season. So the scope of my powers would seem to be fairly limited or scattershot at best.
It was a great pitcher's duel, but, funny thing, the Sunday afternoon crowd didn't seem to be really up for it. Sure, Johan easily got the loudest ovation in the pregame introductions. But watching him duel a pitcher who holds the Twins to a lone single to Rightfield through 7 innings? Hmm, not really so much what they came to see. Your local Public Library & Internet Cafe holds a noisier crowd on any given day, except for the occasional moment when Johan had two strikes on a batter and/or the video board hectored us to
GET ON YOUR FEET
and make some
NOISE!
It's funny how people can be moved to scream for TC Bear to shoot a T-shirt out of his mortar cannon in their general direction, too. (Take a hint, people: if you're sitting in the upper deck, TC Bear's mortar cannon is giving you bupkis.) Otherwise, I sensed the crowd was hoping for more Twins hits launched into the "Home Run Porch," and not so much of that dreary duel.
The hometown team did generate some excitement in the 8th inning when, with 1 out, Jacque Jones hit a soft chopper that dribbed just past Colon and he reached base when Chone Figgins bobbled the ball. (It was scored a hit, but really that was a gift from the hometown scorekeeper, who must be dreaming of helping Jacque win a batting title or making the All-Star team.) Colon made way for Scott Shields, who promptly gave up a single to Michael Cuddyer and walked Joe Mauer to load the bases. When Mauer was announced as the pinch-hitter, you could feel the juice get turned up several notches. You could tell, we believe in that kid, we sense something special will happen when he gets involved; or do we just so badly want to see the hometown boy make good? The buzz got even louder after he walked, bringing up LeCroy to bat for Rivas, and never mind that K-Rod was jogging in from the bullpen mound, nor the Twins' Curse of Batting With the Bases Loaded. It felt like the Twins were going to come back to win at that point. It had to happen, and LeCroy did punch a grounder up the middle that would have gone through for a single in some situations; but in that case the SS Orlando Cabrera was shading towards the middle, in perfect position to start the double play. The Curse strikes again.
Shannon Stewart led off the bottom of the 9th with a homer that carried just into the 3rd row of the "Porch," but K-Rod settled things down again from there, striking out Justin Morneau (who feuded with the umpire on a couple dodgy strike-three calls) to end the game. It was a bummer to walk back out into that winter weather yesterday, having seen Santana's streak come to an end before a fairly disengaged crowd. But the team did play a strong series against the West leaders, and might have been just a timely basehit away from a sweep. Also, more than ninety-thousand came out for the series; and to the Sunday crowd's credit, not many left before the final out. The team passed a challenging test, and it looks like the fans are on board to support the club through the rest of the season. I left the park feeling disappointed, but I feel optimistic about where the team stands at this point, too.
Now if only they could get this bench issue squared away.... (heh)
The Pioneer Press
this morning ran a story headlined,
Bench is caught short
, in which Gardy bemoans his lack of options when K-Rod entered the game in that 8th inning:
"We knew there was a possibility of a double play, but that's with everybody. After the fact, yeah, boy, I wish we would've done something different, but that's where we're short on our bench, not having another pinch hitter available, left-handed, like a Tiffee there. You might use Tiffee in that situation and save Matty for one more (pinch-hit situation)."
The story writer Jason Williams points out in his piece that it's Corky Miller's presence on the roster which caused the predicament, but there is no follow-up quote indicating any self-reflection on Gardy's part. It's really too bad that there's nothing you can do to address that situation, eh, Gardy? Curse the fates!
After the game I also heard someone call in to WCCO to talk about whether Corky Miller really has any more value as a 3rd-string Catcher than Rob Bowen at AAA, and why couldn't they cut Miller to bring Terry Tiffee back. True to form, the host blew him off before anyone could be caught questioning decisions made by Twins management too deeply. What kind of sports call-in show pointedly discourages callers from saying anything inflammatory about the local ballclub's management, even on an issue like whether it's such a great idea to carry four Catchers on the roster? Yet it seems to be WCCO policy, whether it's daytime or latenight with Dark Star. Are they on the take, or did Tom Kelly just whack the balls off the lot of them sometime back around 1992? Don't kid yourself, I'll bet TK's got a few unique trophies kept away in his den, and not just the '87 ALCS and Series balls that Herbie gave to him.
Does this man resemble a neutered cat?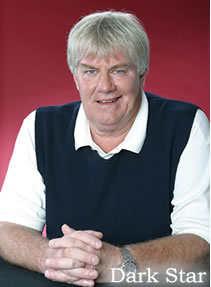 Perhaps he has more in common with Funny Cide than just a love for the racetrack.
Oh, so mean... so cutting... Oh, Minnesota, you know it's so true.